I am having a BLOG PARTY!
it was suppose to start yesterday but leave it to me to forget and start a day late!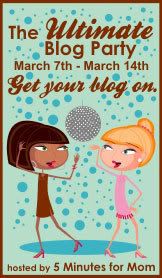 Hi my name is Sue and I live in Upstate N.Y. I have 3 grown children and 3 grandsons! I also have a wonderful hubby!
I am a avid scrapbooker and decorative painter!
I Love the Lord with all my heart and know that if it weren't for Him I would not have made it through many crisis in my life!
I love making new friends and I love sharing with friends!
I made some treats in honor of the Blog PARTY! I am sharing the recipe so you can make them to!
Candy Bar Cookies
1 cup Packed brown Sugar
2/3 cup butter or margarine
¼ cup light corn syrup
¼ cup peanut butter
1 tsp. Vanilla
3 ½ cups quick-cooking rolled oats
2 cups semisweet chocolate pieces
1 cup butterscotch pieces
2/3 cup peanut butter
Preheat oven to 375 degrees. Line a 13x9x2 baking pan with foil; extend foil over edges of pan. Set aside. In a medium saucepan, cook and stir brown sugar, butter, and syrup over medium-low heat until combined. Remove from heat; stir in the ¼ cup peanut butter and vanilla until smooth.
For crust, place oats in a very large bowl. Pour brown sugar mixture over oats; stir gently until combined . Press mixture evenly onto bottom of prepared baking pan. Bake for 10 to 12 minutes or until the edges are light brown.
Meanwhile, in the same medium saucepan, cook and stir chocolate and butterscotch pieces together over low heat until melted. Stir in the 2/3 cup peanut butter until mixture is smooth. Slowly pour mixture over hot crust, spreading evenly.
Cool in pan on rack for several hours or until chocolate layer is firm. (If necessary, chill until chocolate is set.) When firm, use foil to lift out of pan. Cut into bars.
Thought I would share a few of my creations!
Come here to my blog during the blog party from March 7th-through the 14th and leave a comment on this post or any post after this post through the 14th and get entered into a drawing to win a RAK.. YEP that is right BLOG CANDY!!!!
Here are my favorite picks for prizes but I won't turn down any prize you offer me!
1. $60 Gift certificate to
Mikarose
(pretty dresses) donated by
Liza
. (prize #54)
2. $25 Target gift certificate provided by
Mommy Bytes
. (prize #117)
3. Bead Dangle Photo Tile Necklace with heart from
Elemental Memories (prize #7)

4. Judy at
"Welcome to My World of Dreams"
will be donating a $25 gift certificate from Amazon.com. (prize #60)
5.Pirates of the Caribbean portable CD player
Provided by:
The Geeky Housewife